DO YOU WANT TO WORK IN A HOSPITAL OR IN PATIENT'S HOMES? 
WITH OUR CNA HHA BUNDLE WE NOT ONLY TRAIN YOU AS A CNA 
BUT AS A HOME HEALTH AIDE.
WE ONLY ACCEPT 15 STUDENTS PER CLASS TO GIVE YOU THE BEST EDUCATION. 
HURRY AND SAVE YOUR SEAT NOW.
Save $100 Off Our Normal HHA Price When You Choose Our CNA HHA Bundle.
Tuition Only $1900
This All-inclusive Training program will train you as a Certified Nurse Assistant (CNA) and Home Health Aide (CHHA). This bundle is ideal for people who want to work in Nursing homes, Patient's home, or with Hospice Agencies.
This opens the door to a variety of employment opportunities. With this bundle you will be able to get 2 licenses which will enable you to make more money.
Homecare and Hospice pay higher wages compared to skilled nursing facilities. Homecare agencies and Hospice agencies both require the CHHA license.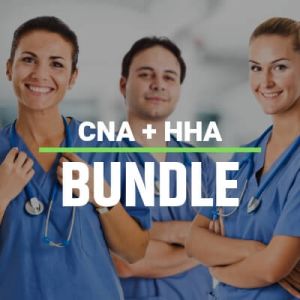 CNA Training schedule available:
29 day program weekday morning (Monday – Friday 8am to 2:30pm)
44 day program weekday evening(Monday- Friday 4pm to 8pm)
22 day program weekend morning( Saturday & Sunday 7am to 3:30pm)
HHA Training Schedule:
5 day program: weekend morning (Saturday & Sunday 7am-3:30pm)
This Program is Approved By: