[st_row id_wrapper="elm_599af6eda60dc_272″ ][st_column span="span12″ id_wrapper="elm_599af6eda5a85_268″ ][st_spacer height="55″ id_wrapper="elm_599af6eda4e84_263″ ][/st_spacer][st_image image_file="https://wmtc.info/wp-content/uploads/2019/04/wmtc-logo-original.png" image_size_wrapper="" image_size="full" image_alignment="center" id_wrapper="image_ae699595b91347e90a792303fccc643d" ][/st_image][st_spacer height="55″ id_wrapper="" ][/st_spacer][st_text font="custom" font_face_type="google fonts" font_face_value="ABeeZee" font_style="400″ id_wrapper="text_53b12809bc49669279d606f3b921d0bd" ]
LOOKING FOR A FAST PHARMACY TECH PROGRAM? OUR PHARMACY TECHNICIAN PROGRAM IS ONLY 26 DAYS AND YOUR EXTERNSHIP IS INCLUDED IN TUITION! SAVE YOUR SEAT TODAY THIS PROGRAM FILLS UP FAST
[/st_text][st_heading tag="h3″ text_align="center" normal_font_color="#eef82f" enable_underline="no" id_wrapper="heading_9e97448af8cff527494f027c57987a7a" ]TUITION ONLY $1200![/st_heading][st_row_2 id_wrapper="elm_5b085002773cc" ][st_column_2 span="span6″][st_spacer id_wrapper="" ][/st_spacer][st_heading tag="h3″ text_align="center" normal_font_color="#eef82f" id_wrapper="heading_861c7a7c130f80e78f105197624fff00″ ]WATCH THE VIDEO BELOW…[/st_heading][st_spacer id_wrapper="" ][/st_spacer][st_spacer id_wrapper="" ][/st_spacer][st_html el_title="Video" id_wrapper="html_322e35487b95382f2b067de1f992d1f6″ ] [/st_html][/st_column_2][st_column_2 span="span6″][st_spacer id_wrapper="" ][/st_spacer][st_spacer id_wrapper="" ][/st_spacer][st_html el_title="Form" id_wrapper="html_eeb22996f770dc60e1daac14f1e01d52″ ][/st_html][/st_column_2][/st_row_2][st_spacer height="55″ id_wrapper="" ][/st_spacer][st_text wrapper_padding_top="0″ wrapper_padding_left="0″ wrapper_padding_bottom="0″ wrapper_padding_right="0″ id_wrapper="elm_599af6eda5a3a_267″ ]
Our 26 Day 130 Hour on-campus Pharmacy Technician Program in San Diego teaches the skills needed to gain employment as a pharmacy technician in either a hospital or retail setting.The objective of our Pharmacy Technician School is to provide graduates with the skills and knowledge that will enable them to qualify for entry-level positions in pharmacies.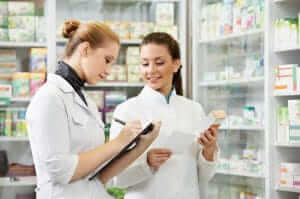 Our Pharmacy Technician Program gives our students 2 ways to get their license:
1.  Take their (PTCB) Pharmacy Technician Care Board Exam. This allows the student to have a national certification which will enable them to work as a pharmacy technician anywhere in the USA. This automatically qualifies you for the California Pharmacy Technician Certification no externship hours needed.  If you are looking to work in a hospital most require a National Certification. 2. Students must have 120 externship hours at a Pharmacy which qualifies you for the California Pharmacy Technician Certification.
**You MUST HAVE A HIGH SCHOOL DIPLOMA to be able to get your license.**
Short-Term Pharmacy Technician School
At Western Medical Training Center, we offer an intensive short-term program that offers Classroom lecture, hands on lab practice and externship opportunities with our many contracted Pharmacies. Taught by experts in the field, we allow you to train quickly so you can be out working in no time.
What is a Pharmacy Technician?
A pharmacy technician works to help a pharmacist prepare prescription medications for customers and patients. They also can process written, electronic, or phone prescription requests from doctors. Depending on the state, a pharmacy technician can also mix medications and organize the drug inventory in the pharmacy.
We Prepare You For a Job as Pharmacy Technician
By enrolling in our pharmacy technician program, you will learn the theory and practical application skills needed to prepare you for entry-level employment in a hospital, retail setting, or compounding pharmacy. Our program consists of 130 hours of theory and lab training and 120 hours of externship at a local Pharmacy.
Pharmacy Technician Certification Board Exam
We help you work towards becoming a licensed Pharmacy Technician by preparing you for the Pharmacy Technician Certification Board (PTCB) Exam. The PTCB is a computer-based exam that determines whether individuals have the knowledge needed to be a pharmacy technician. The exam features questions pertaining to 9 different subjects. These subjects are:
Pharmacology for Technicians

Pharmacy Law and Regulations

Sterile and Non-Sterile Compounding

Medication Safety

Pharmacy Quality Assurance

Medication Order Entry and Fill Process

Pharmacy Inventory Management

Pharmacy Billing and Reimbursement

Pharmacy Information System Usage and Application
Flexible Pharmacy Technician Program Class Schedules
Life can be crazy . However, we accommodate your busy life with flexible class schedules, offering evening, and weekend classes to fit your needs.
Get Personal Support and Attention
We want to make your experience at Western Medical Training Center's Pharmacy Technician school as personal and enjoyable as possible. That is why we keep our class sizes small, with a very low student-to-teacher ratio. We want to make sure that your instructors get to know you and can offer personalized instructions and lessons.
Start a New Career as a Pharmacy Technician in San Diego
If you are ready to start a new and exciting career as a Pharmacy Technician in San Diego, contact Western Medical Training Center today. We offer a short and affordable pharmacy technician program that will get you ready to embark on a new career as a Pharmacy Technician. To get started, contact Western Medical Training Center today. Give us a call at (619) 588-0488. Please note that qualifying for licensure as a Pharmacy Technician is contingent upon demonstrating a clear criminal background as indicated by the Pharmacy Technician Certification Board and California State Board of Pharmacy. A High School Diploma or GED is also required. To learn more, visit the California State Board of Pharmacy. Please contact us at 619-241-9931 to inquire about current class dates, times and specials
 [/st_text][st_row_2 id_wrapper="elm_5a3ab2cc26eec" ][st_column_2 span="span6″][st_text id_wrapper="text_d2c6649b4bbc1b855cadcd37455045b2″ ]
Here Is Our Upcoming Schedule:
Evening Monday – Friday From 5:30 pm – 10:30 pm. August 29th – October 4th 2019 2019 Weekend Saturday & Sunday From 5 pm – 10 pm August 3rd – November 3rd 2019
Take our pharmacy technician program today for just $1200 and be on your way to a new career in just 26 days.
[/st_text][st_spacer id_wrapper="spacer_e0da2551f6b21807be81f624cde36e76″ ][/st_spacer][st_text id_wrapper="text_98dd105f5900a55ea91ba50f4a13aaa6″ ]
WE ARE APPROVED BY:
[/st_text][st_spacer id_wrapper="" ][/st_spacer][st_image image_file="https://res.cloudinary.com/wmtc/image/upload/v1528401196/PTCB-Logo_gdebuu.png" image_size_wrapper="" image_size="thumbnail" link_type="url" image_type_url="https://ptcb.org" image_alignment="left" id_wrapper="image_10c8c8ed2f9b40f6bbfd29a8d0436947″ ][/st_image][st_spacer height="15″ id_wrapper="spacer_e421b8a7f586ab48ef4f26e37f7ab157″ ][/st_spacer][st_text id_wrapper="text_6ff966b584081f0b6406527517ced43e" ]
See The Labor Board of Statistics Hourly Pay Here
[/st_text][st_image image_file="https://wmtc.info/wp-content/uploads/CA_BOP_logo.png" image_size_wrapper="" image_size="full" image_alignment="left" id_wrapper="image_785d5b7ee7a5c418a693caa0f7f64434″ ][/st_image][/st_column_2][st_column_2 span="span6″][st_heading tag="h3″ normal_font_color="#f9ea43″ id_wrapper="heading_4462df99de978d1e4cc283879a7f4ade" ]Save Your Seat Below…[/st_heading][st_html id_wrapper="html_efe06b4ce3864f6c10c966dd4b279d6b" ][/st_html][/st_column_2][/st_row_2][st_row_2 id_wrapper="elm_5a3ab2cc26eec" ][st_column_2 span="span6″][st_spacer id_wrapper="spacer_ab8e243c052a7884edc4d8e9f7b002e9″ ][/st_spacer][st_html id_wrapper="html_9553e17183901253e9907122aad488bc" ]
var repuso_floating_id = 5714; var website_id = 0;
[/st_html][/st_column_2][st_column_2 span="span6″][st_spacer id_wrapper="" ][/st_spacer][st_spacer id_wrapper="" ][/st_spacer][/st_column_2][/st_row_2][/st_column][/st_row]